The Media Lab
was organised by Symbiosis, with the support of UNHCR Representation in Greece, in Athens and Thessaloniki between December 2021 and February 2022. It included workshops, mentoring and practice engaging refugees and locals in learning about Storytelling & Journalism, Mobile Reporting and Effective Use of Social Media to raise their voices for integration and social inclusion.

The Media Lab workshops have been intensive - Zahra Mojahed, Olga Pateraki, Rahmat Ahmadi, Marianna Giotaki, Mahdia Hossaini, Nikos Vaniotis, Hina Adil, Chrisa Markopoulou, Afsoon Khoobani, Matthaios Giannisopoulos, Maria Karpodini, Chalil Alizada, Hamed Changizi and Elli Papastergiou made the complete course. Alhasan Al Kholod, Didier Vishal Toukam, Biwar Abdulrahman, Jaward Jafari, Stella Sakonidou, Danai Karagianni, Masoumeh Tajik, Leila Baghrara, Donya Sarwari and Spyros Giannopoulos, participated in part.

Throughout the workshops, participants produced short videos, stories, podcasts, photostories – a learning process in responsible reporting. We explored various story- telling techniques and tools, in theory and practice, enhancing skills in mobile reporting, video-making and use of social media. The Media Lab empowered participants voices to tell compelling stories (their own or others), providing a platform for the participants to be heard and reach a wider audience.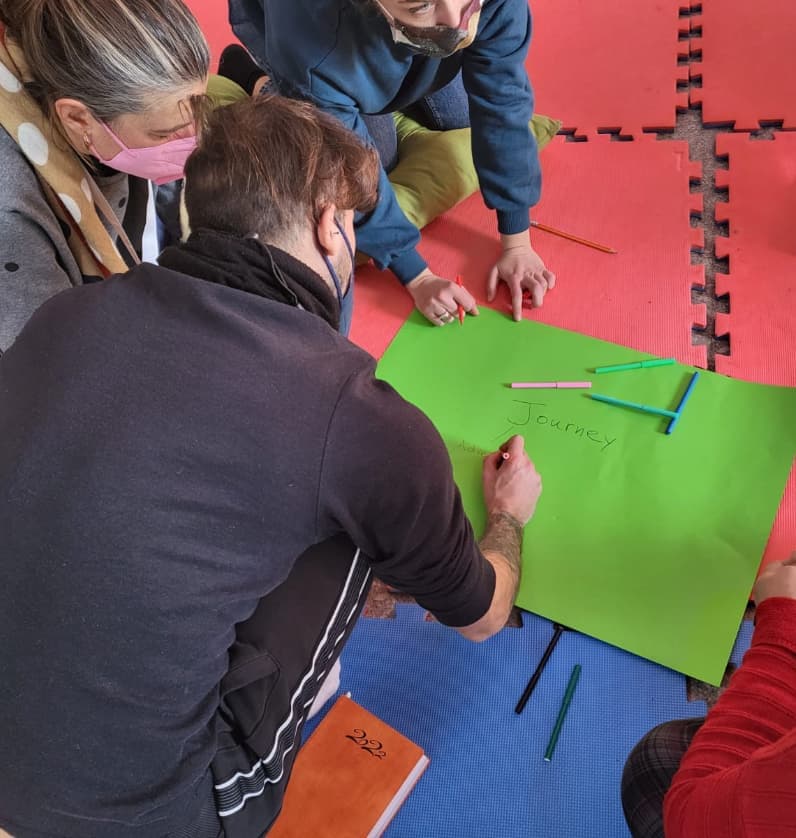 Maria Clara Martin UNHCR Representative in Greece visits the Media Lab and talks to the participants on her experience as a former journalist
"It was an honour to join you and talk to the participants of the Media Lab! I was energized by the enthusiasm for truth and quality reporting of this group of future reporters. The world needs more of them!"
Participants and Symbiosis Director Despina Syrri spoke to the national TV ERT3 about the Media Lab
About Symbiosis
Based on the premise that practicing human rights protection equals to democratic rule of law, Symbiosis focuses on information and education, freedom of expression, documentation and analysis, public debate and active civic participation, so that people and communities voice their needs and ideas. Grounded on the need for global civics, citizenship, social inclusion and political participation, Symbiosis work towards democratic participation in political processes free of discrimination and exclusion, and on developing civic awareness on institutional practices regarding rights. In 2014, Symbiosis and the Council of Europe established the School of Political Studies in Greece. The School offers quality education to policy makers, activists, experts and civil society, investigating democratic processes and strengthening democratic culture, encouraging dialogue between civil society, policy makers, activists, experts and the media, as well as community organising for a more democratic, equal and sustainable world.
About UNHCR
UNHCR, the UN Refugee Agency, leads international action to protect people forced to flee because of conflict and persecution. We deliver life-saving assistance like shelter, food and water; help safeguard fundamental human rights; and develop solutions that ensure people have a safe place to call home where they can build a better future. UNHCR Representation in Greece supports the Greek authorities, which lead the refugee response, by working with State and EU institutions, municipalities, UN agencies, international and local NGOs, refugees and local communities. The organisation works to create favourable integration conditions through projects with refugees, local communities, municipalities and the private sector.